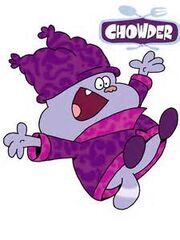 Chowder is the main protagonist in this cartoon, and is Mung Daal's Apprentice. His appearance is a purpish Bunny,Cat thing. He constantly eats, and has emergency "Big-Boy pants" for when he eats too much. His favorite foods are:
Lollistops (Lollipops)
Thrice Cream (Ice Cream)
Tacos
froggy apple crumple thumpkin
toenuts(doughnuts)
frapplejuice(applejuice)
Even Chowder doesn't know what species he is.
Relationships
Edit
Chowder And Mung Daal
Edit
Ad blocker interference detected!
Wikia is a free-to-use site that makes money from advertising. We have a modified experience for viewers using ad blockers

Wikia is not accessible if you've made further modifications. Remove the custom ad blocker rule(s) and the page will load as expected.